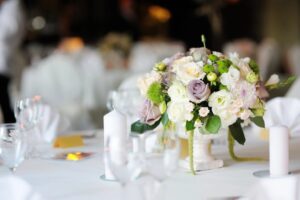 If you're planning an event to celebrate a special occasion, you may need special event insurance. This can cover many types of events from weddings, receptions, showers, birthday parties and retirement parties.
First of all, many places require this insurance for liability reasons. The liability insurance gives protection if you're liable for bodily injury, property damage, in addition to personal injury to others at the event. Special event insurance is short term and there are more options than you might think!
What does special event insurance cover?
Cancellation or postponement. Depending on your contract, you might be charged a fee for cancelling or postponing your event. This special event insurance can cover these fees or lost deposits.
Gift coverage. This coverage pays you for gifts damaged at the event.
Additional Expense. The coverage pays for any fees charged for cancelling or postponing your event. For example, if a caterer suddenly can't make it and you find a replacement in time, this can pay you for the difference in cost.
Photographs & video. This coverage can protect you for lost or damaged photos. Furthermore, you are reimbursed the costs of getting the party back together at a later time if the photographer is a no-show.
Liquor liability coverage is another option you can have too.
When planning your event, let our agents at Wilkinson Insurance Agency in Brownsburg, Indiana help you get the best event insurance for your special day.
Ready to find out more?
Drop us a line today for a free quote