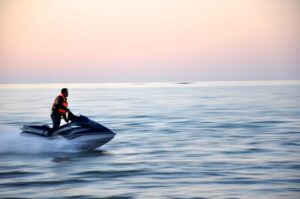 We can help you insure any type of personal watercraft from jet skis, wave runners, and sea-doos. It's very important to have a enough liability limits as well as protection for damage to your watercraft.
What Personal Watercraft coverage is available?
PWC policies offer high medical payments up to $25,000 to protect you and your passengers.
You can also get full replacement cost on your personal items. Items like your sunglasses, cell phone, clothing and other gear will be replaced if damaged and not repairable.
Widespread coverage. The coverage is available across all of the United States as well as Canada.
New watercraft replacement is available for PWCs that are one year old or less. This means if there's a total loss to your new (within 1 year) PWC, you get paid the amount for a brand new similar model. If it's more than three years old, you get the amount that your watercraft is worth at the time of loss.
Roadside assistance is also offered if your tow vehicle or trailer is damaged or disabled.
If you're found responsible for a fuel or oil spill, your policy will cover it!
Furthermore, if your PWC sinks, your policy will cover the cost to raise and remove the wreckage from the water.
Let Wilkinson Insurance Agency in Brownsburg, Indiana help you put together a policy designed just for you and your needs! 
Ready to find out more?
Drop us a line today for a free quote or click button below and fill out our online quote form!