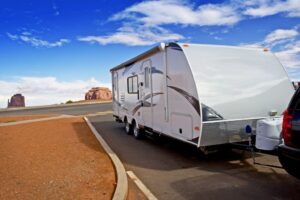 Recreational RV use
Motorhome RV insurance is very different from car insurance. Recreational use and full-time use are two main factors in customizing your RV policy. There are many options available for covering your RV no matter how you use it. These include comprehensive and collision coverage, accident forgiveness and trailer coverage.  Some others are disappearing deductibles, roadside assistance, and vacation liability. RV and motorhome insurance combines many of the options of auto and homeowner's insurance blending the two together.
Full time RV use
If you reside in your RV full-time, this type of policy gives you many of the options a homeowner enjoys. If you reside in your motorhome for more than 6 months out of the year, it is considered full-time. Along with protecting the RV as a vehicle, you have choices to cover your property and liability too. Paying association fees and having personal liability coverage are two examples. Your personal property can also be covered at full replacement as well as contents of a storage shed.
You have a lot of choices when it comes to insuring your motorhome or RV. You don't have to do it alone. Our agents at Wilkinson Insurance Agency in Brownsburg, Indiana can talk with you and help you decide what's best for you.
Ready to find out more?
Drop us a line today for a free quote or click button below and fill out our online quote form!